FREE STICK AND RING DROP IN
---
---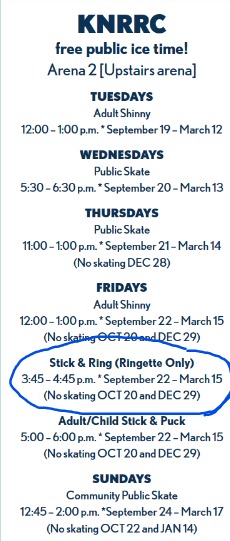 ---
City of Beaumont has responded to the request that ringette kids would benefit from dedicated stick and ring drop in time. There is scheduled time dedicated for ringette only at KNRRC Rink 2 (upstairs) on Fridays 3:45-4:45pm starting on September 22, 2023 - March 15, 2024 (omit October 20 and December 29). Regular Stick and Puck is on those dates from 5-6:00 pm, ringette player are permitted at this time as well but this time is very popular with hockey players. Beaumont Ringette Association encourages our ringette players to use the dedicated "Stick and Ring" time slots to practice their skills, play shinny with their friends and / or come with your parents. This is a trial time and if it is not utilized it will not keep happening.
Please abide by the rules as follows.
Ice arena
Public skating
Adult/Child Stick & Puck
Senior Stick & Puck
Note: Kids 7 years of age and younger must be supervised by a parent or guardian 14 years of age and older. Those responsible for supervising children must be able to see and access the child.
Stick & Puck activity rules
Stick & Puck is intended for skill development and the timeslot is reserved for children/adults to work on their basic hockey skills in a safe and respectful environment.
Formal groups or hockey teams should book the ice as formal team coaching is not allowed during Stick & Puck.
You will be asked to leave the ice surface if these rules aren't followed:
Adult/Child Stick & Puck is for all adults and children, supervision follows the general rules of the facility.
There are NO organized games/shinny during this time.
Slap-shots, rough play and pick-up games are not allowed.